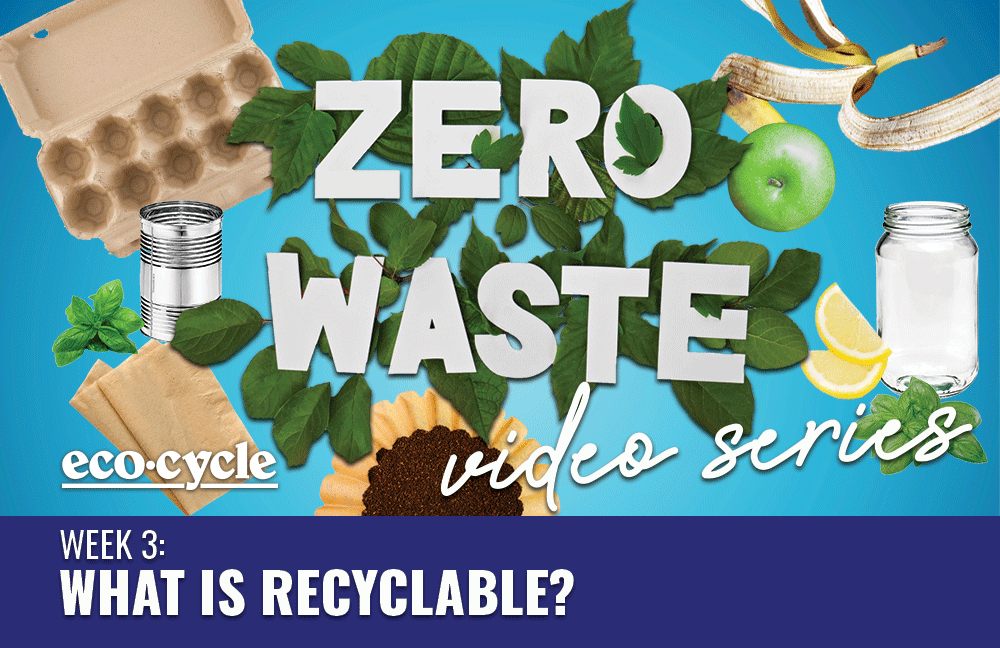 Good morning, Zero Wasters!
Thanks for joining us for Week 3 of Eco-Cycle's Zero Waste Video Series!
Last week, we learned about the benefits of recycling – conserving resources, saving energy and water, and creating jobs! If you haven't had a chance to view Week 2's video lesson or try one of the activities, you can find all previous weeks' lessons here.
Let's kick off Week 3's lesson:
What Can Be Recycled?
Recycling is pretty simple, right? It is – once you know your guidelines! But guidelines change from one community to the next, which can make knowing what to recycle more complicated. For example, the same glass bottle that is recyclable in your community may not be recyclable in other communities in the nation – or in other communities in your state! In this week's video lesson, "What Can Be Recycled?" we explain why recycling guidelines vary and review the THREE main factors that makes something "recyclable" (or not recyclable) where you live!
WHAT CAN BE RECYCLED?
Whether something is (or isn't) recyclable changes from community to community, and is determined by three things.
Watch this week's video lesson (it's about 4 minutes) to learn more about the 3 factors that make an item recyclable!
After watching the video, challenge yourself further by doing one of the following activities:
Next week's lesson, "How Are Things Recycled? A Tour through a Recycling Facility" will be sent to your inbox on Friday, May 15th!
Questions? Email recycle@ecocycle.org
Did you receive this email from a friend?
Sign up here to get the Zero Waste Video Series delivered straight to your inbox every Friday!