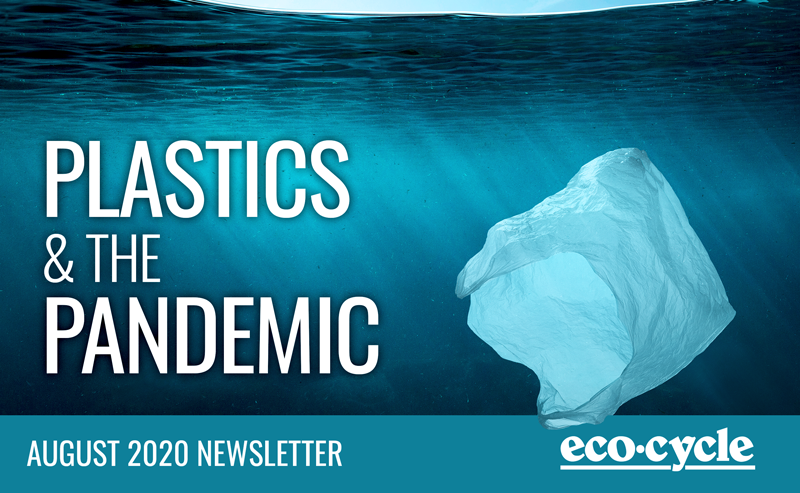 End Rollbacks of Plastic Pollution Reduction Policies
During the COVID-19 Pandemic
During the pandemic, the first priority should be the safety of frontline workers, protection of the public and vulnerable community members, and efforts to flatten the curve of COVID-19. In the five months since the pandemic became widespread in the US, there has been an abundance of information on how to reduce the risk of the coronavirus. To the plastic industry, reducing risk of transmission means getting rid of plastic bag bans and fees in place in over 400 cities nationwide. However, research to date offers no conclusive evidence to justify rolling back plastic bag bans and fees.
We do not have to choose between COVID-19 safety and the environment.
At the onset of the pandemic in the U.S., the plastics industry began pushing for rollbacks of plastic pollution reduction policies. In March, the Plastics Industry Association sent a letter to the U.S. Secretary of Health and Human Services requesting the Department take a formal position against disposable plastic bans, contending these regulations pose a public safety risk.
However, there is no evidence showing that disposable plastics increase worker safety or protect against the novel coronavirus. Key findings include:
Plastic is one of the materials on which the coronavirus survives the longest, regardless of whether the plastic is disposable or reusable. In one study, the novel coronavirus was shown to be infectious for up to 24 hours on paper and cardboard, but remained infectious for 48-72 hours on plastic and stainless steel.
Reusables can be used as safely as most disposables. Both reusable and single-use products, such as bags, cups, plates, and utensils, are handled by several people before reaching the customer. Whether disposable or reusable, precautions must be taken when handling items to protect employees and customers.
In addition, mounting research finds that the novel coronavirus may be an airborne pathogen, meaning that its primary mode of transmission is through microscopic droplets in the air rather than via surfaces.
Reusable grocery bags can be used safely without increasing the risk of spreading COVID-19. The California Division of OSHA offers recommendations for safely allowing customers to use reusable bags:

Do not touch or place groceries in customer-brought bags; rather have customers bag their own groceries.

Ask customers to leave their own bags in the shopping cart as they bag, or wipe down the bagging surface after the customer has removed all of their bags and purchases.

Wash hands after handling a customers' bags, if they have done so.
Suspended plastic pollution prevention policies should be reinstated now.
Even a temporary suspension of policies to reduce plastic pollution can have long-lasting impacts on local communities and the environment, including spreading misinformation that disposables are safer than reusables while plastic pollution builds up in the environment.
Policies that reduce plastic pollution are essential to addressing climate change and the plastic pollution crisis – both of which continue to progress in the background of the global pandemic.
Read Eco-Cycle's full statement End Rollbacks of Plastic Pollution Reduction Policies During the COVID-19 Pandemic here.
For more information, please contact Randy Moorman, Eco-Cycle Community Campaigns Director; randy@ecocycle.or

Eco-Leader 2.0 Training: What is A Circular Economy?
Wednesday, September 16th
5:30-7:30 pm
We talk a lot about what bins we should be putting our materials in, and why recycling and composting are important. But as recyclers, we at Eco-Cycle are the first to say we're NOT going to be able to recycle our way out of the current waste crisis! Recycling is just one part of the true goal: achieving a Circular Economy in which waste is reduced or eliminated,
Join us for this training to learn about how repairing, sharing, legislation, food systems and more play a part in this model! Once you RSVP, the zoom link will be sent to you!
Recycle Colorado Summit
Transforming Recycling: Building a Circular Economy in the Rockies
August 25th-26th
The annual Summit for Recycling brings together businesses and organizations dedicated to the principles of the circular economy and material waste reduction, recovery and diversion. Want to know more about how we can build a circular economy right here in Colorado? Heard of Extended Producer Responsibility (EPR) but not quite sure what it is? Join us! This year's summit will be virtual and complete with keynotes, interactive networking, and educational sessions and workshops.
Tell Food Delivery Apps to Please Hold The Plastic
Eco-Cycle, along with over 125 environmental leaders and a growing number of customers, is asking food delivery companies to reduce unnecessary plastic pollution by making utensils, condiments, napkins, and straws an opt-in option, which means customers will only get these items if they ask for them. This will help restaurants save money, resources, and prevent pointless plastic waste at the same time!
Please join us in urging these companies to make a small change that could have a big, positive impact by signing the petition below!
Fight Plastic Pollution Every time You Eat Out!
PlasticScore (www.plasticscore.co) is a zero waste rating app for restaurants that has just launched in the Denver-Boulder area. The app crowdsources observations from diners about plastic use in local restaurants, giving restaurants a rating from one to five turtles. This rating helps users know which restaurants use styrofoam or single-use plastics, and which ones utilize reusables and more sustainable practices!
Each time you review a restaurant on the PlasticScore app, you'll be entered into a drawing for restaurant gift cards and zero waste! And, for every disposable item counted in our reviews, PlasticScore will pick up a piece of trash to offset it