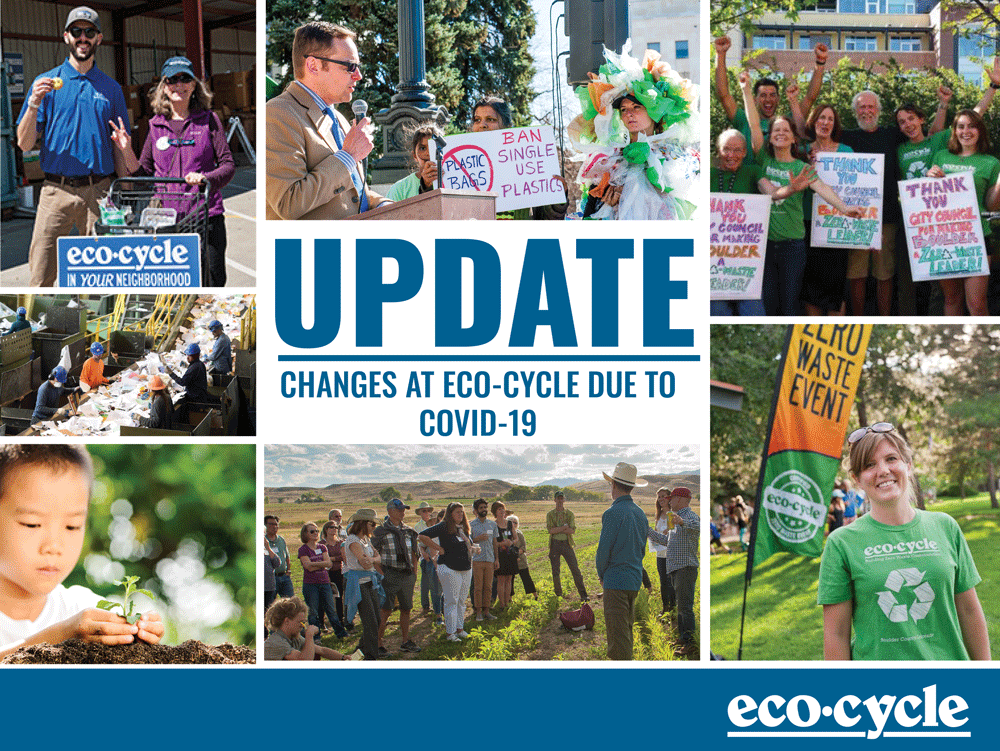 Dear friends,
Over the past week, we have all begun to face the unprecedented challenge of responding to the COVID-19 virus. Like you, we are taking action to keep our community and loved ones safe and healthy.
I want to thank each of you for being a part of the Eco-Cycle community. Without you, the work we do to conserve resources, reduce waste, and fight climate change would not be possible. I'd like to share with you updates on where the work you support stands today, temporary closings and postponements due to COVID-19, and answers to related questions we've recently received.
These are trying times, but we will get through it – together. We'll be in touch with new developments and opportunities to help the community – until then, keep healthy, and know that we are here for you!
My best to you and yours,

Suzanne Jones
Executive Director

Eco-Cycle offices are closed, but our hotline is open.
Staff will continue working remotely. Our hotline remains open Monday-Friday from 9am – 5pm. If you have Zero Waste questions, call 303.444.6634 or email recycle@ecocycle.org.
Eco-Cycle/City of Boulder Center for Hard-to-Recycle Materials (CHaRM) is closed to the public March 17- March 29.
The CHaRM closure is in compliance with the City of Boulder's local emergency declaration and efforts to avoid the spread of COVID-19. No residential materials will be accepted at the CHaRM facility. Businesses in need of one-time drop-off of CHaRM materials can leave a message at 303-444-6634 x 101 to make a drop-off appointment.
We will follow the City of Boulder's emergency efforts to determine the potential for re-opening or the need to remain closed after March 29th. In the meantime, if you can, we ask that you please hang on to your hard-to-recycle items to drop off at the CHaRM at a later date.
For the time being, the Boulder County Recycling Center (BCRC), operated by Eco-Cycle, is open.
As an "essential operation," the Boulder County Recycling Center, where single-stream materials from all of Boulder County's curbside recycle bins are processed, remains operational for now. However, tours of the facility are not permitted at this time. Keeping operations going is subject to change if new direction is received from the county, state or federal levels.
Please continue to collect recyclables for curbside collection according to your hauler's schedule, and stay tuned for any necessary changes that may be forthcoming.
Customers of Eco-Cycle's Commercial Hauling
Eco-Cycle's hauling of commercial recycling, compost and hard-to-recycle materials is currently in operation, with no disruptions to scheduling at this time. If you are a new client or existing customer and would like to discuss recycling or compost pick-up for your business, please contact Nick Miranda, Sales Coordinator, at nick@ecocycle.org.

Colorado Zero Waste Legislation is on hold
Members of the Colorado State House and Senate voted to suspend activities in the current legislative session due to public health concerns. The session is tentatively scheduled to resume Monday, March 30th.
Due to this closure, the four bills that Eco-Cycle is supporting are on hold, including two bills to reduce plastic waste (House Bills 1162 and 1163), a bill to promote compost statewide (House Bill 1047), and a bill to develop recycling end markets in Colorado (Senate Bill 55). Learn more about these bills and their current status here.
Eco-Leader 2.0 Training
More than 1,000 community members are part of Eco-Cycle's Eco-Leader network of volunteers. Eco-Leaders are trained in Zero Waste practices and then share their knowledge, tools, and other resources with their family, friends, classmates, co-workers and neighbors.
The next Eco-Leader 2.0 training scheduled for March 30th at the Boulder County Recycling Center has been rescheduled as a live, virtual training on April 22 (Earth Day!) from 5:30-7:30pm. To receive a link to this training, please RSVP here.
Denver Public Action Meeting on April 29th Postponed
Due to COVID19, we will be postponing the Public Action scheduled for April 29th until further notice. Please stay connected! We plan to continue the campaign and will keep you updated. If you are interested in helping to plan the action, there are ways you can get involved. You can join a subcommittee here. Subcommittees will be meeting virtually until further notice. Our next Eco-Leader meeting will also be virtual and will take place in mid April. If you have any questions, please reach out to jasmin@ecocycle.org
Green Star Schools Program
Eco-Cycle's award-winning Green Star Schools Program provides Zero Waste education and infrastructure for public schools in Boulder and Broomfield Counties, helping schools recycle and compost up to 67% of their waste – almost double the national rate of just 35%.
Currently, schools in Colorado are closed until at least April 17th. During this time away from school, Eco-Cycle environmental educators are exploring methods to continue to provide science-based, environmental education programs to teachers and students in the event that schools adopt online instruction.

We've received questions about composting tissues and paper towels that potentially could be infected with coronavirus after being used to blow noses or clean surfaces. Here's some advice on what to do with commonly-compostable items during this time:
Tissues used to blow noses

:

According to the CDC

, coronaviruses are generally thought to be spread from person-to-person through respiratory droplets. If you are sick with the flu, virus or a cold, or have symptoms,

please do not compost tissues that were used to blow your nose, cover a cough or sneeze, or for a bloody nose; instead, put them into the trash.This is always good practice. For other uses, you can continue composting tissue.
We're Here for You!
If you have questions about Eco-Cycle, the Center for Hard-to-Recycle Materials (CHaRM), Eco-Cycle Commercial Hauling, any of our community programs, or general questions about recycling and composting, contact us at 303.444.6634 or email recycle@ecocycle.org.
Eco-Cycle
PO Box 19006 | Boulder, Colorado 80308
(303) 444-6634 | recycle@ecocycle.org